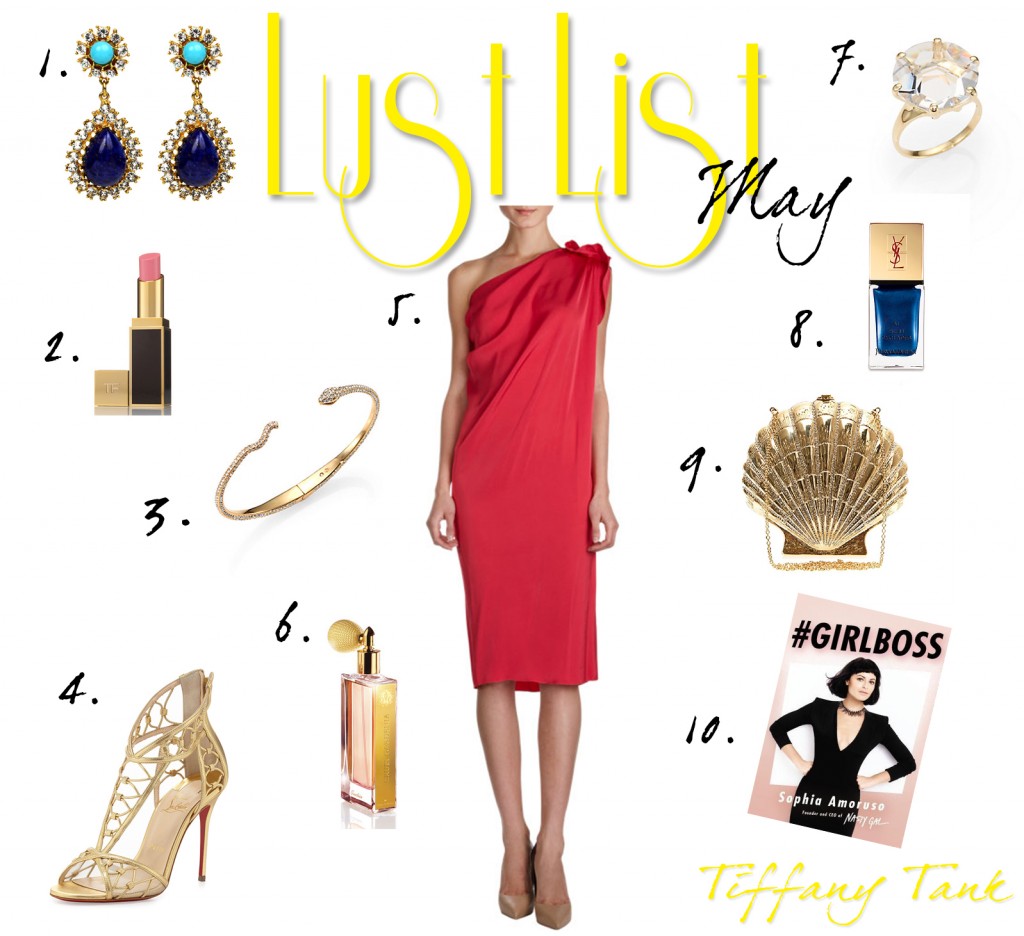 A list of treasures that I'm positively
coveting
this month... 1.
Ben-Amun Blue Teardrop Earrings
- These earrings are
gorgeous
! An unexpected pop of color incorporated into your ensemble via a chic accessory is always welcomed. 2.
Tom Ford - Chastity
- Pout perfection. 3.
Adriana Orsini - Pavé Crystal Snake Cuff
- A little 'sparkle' is a must! 4.
Christian Louboutin - Martha Metallic Sandals
- A gold gladiator sandal (à la Louboutin) is a sure way to ramp up the elegance. 5.
Lanvin - Sleeveless Ruffled Shoulder Dress
- Feminine, elegant, sophisticated & chic! 6.
Guerlain - L'Art Et La Matiere, Cruel Gardenia Eau De Parfum
- A fabulous scent can leave a lasting impression. 7.
Ippolita - Gemma Collection Clear Quartz Cocktail Ring
- Don't underestimate the power of an over-sized cocktail ring. 8.
YSL - No. 51 Bleu Cyclades
- Nail polish should not be an afterthought. The wrong color can tarnish an otherwise fabulous ensemble. Choose your hue thoughtfully. 9.
Charlotte Olympia - Shell Shocked Clutch
- Prepare for compliments galore! 10.
#GIRLBOSS by Sophia Amoruso
- Lust < MUST! The perfect study guide for every #girlboss! This book is amazing!!
What's on
your
Lust List!??