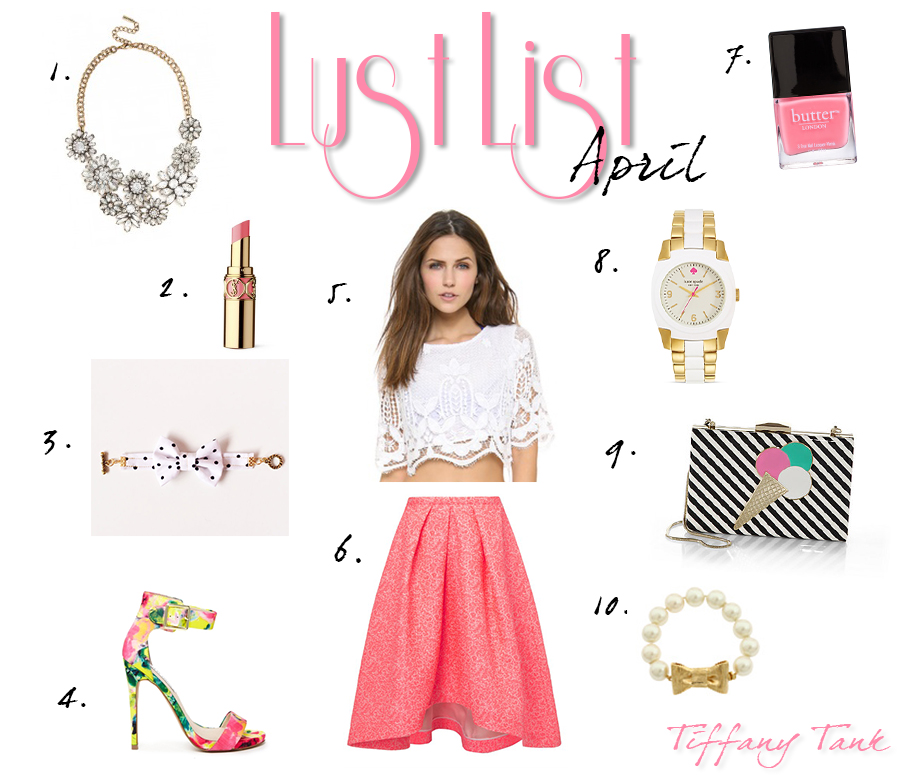 Spring is in the air, Easter is near & I cannot deny that this beautiful time of year is affecting my mood (and shopping cart)! While piecing together this months Lust List, there were some obvious similarities in my selections… Bows adorn every accessory. Floral frocks are everywhere I turn. I simply cannot get my hands on enough pinks, pastels or girly-chic pieces!
1. Crystal Firecracker Bib
2. YSL – Rouge Volupt lipstick No 7 'Lingerie Pink'
3. The "Diana" Bow Bracelet
4. Steve Madden – Marlenee (Floral)
5. Miguelina – Lou Scalloped Lace Top
6. Calla – Fluoro Coral Jacquard Midi Skirt
7. Butter London Nail Lacquer – Trout Pout
8. Kate Spade Skyline Watch
9. Miss Penny's Emanuelle Vinyl Ice Cream Clutch
10. Pearl & Bow Bracelet
Lace, tulle & glitter galore!? Yes, please!!
What's on your Lust List??
.tnt♥.