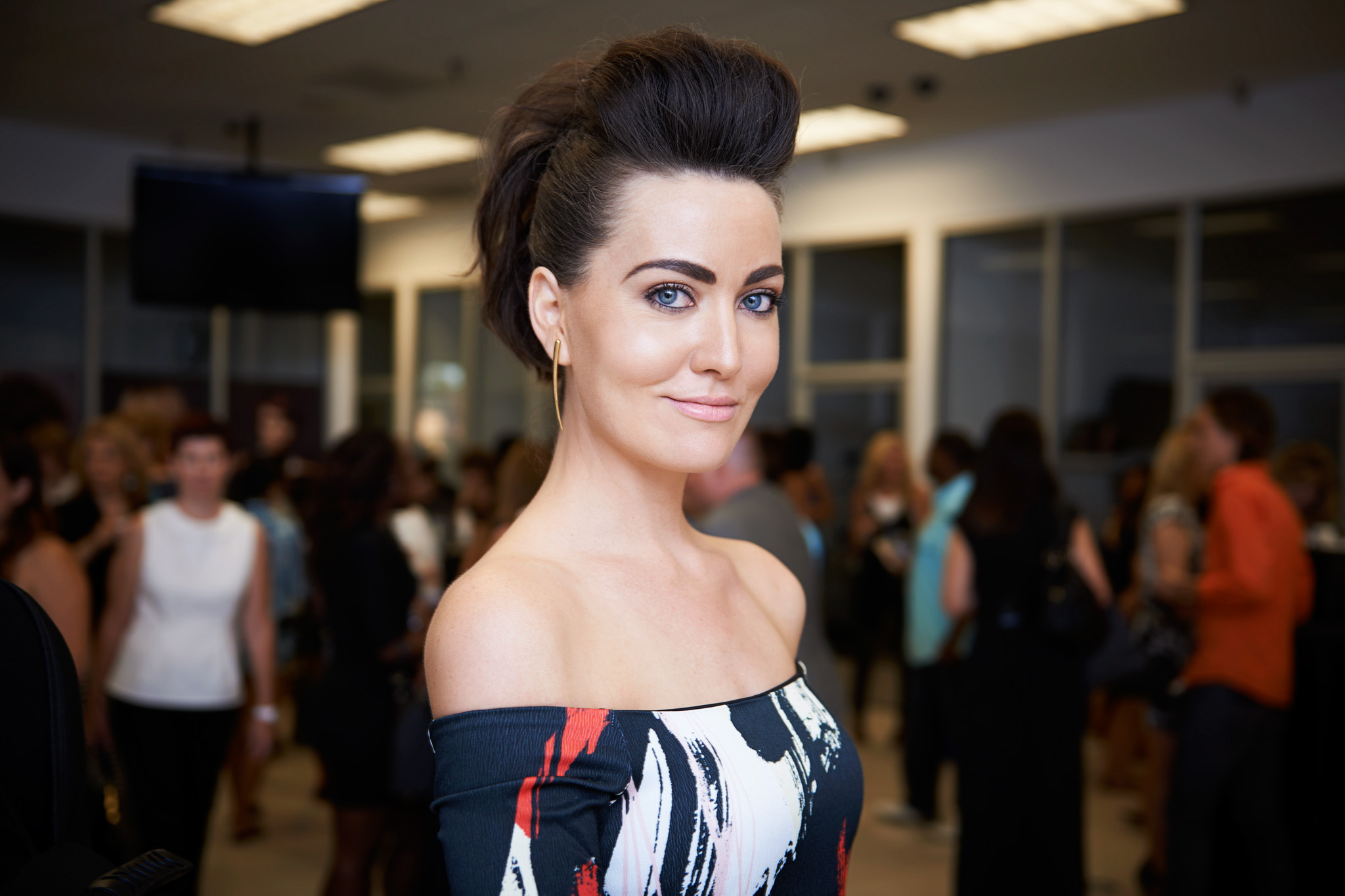 What I Wore
... Earrings: 
℅
Shop Jami
| Dress: H&M -
Similar
| Bracelets: Aldo (stacked)
these
&
these
| Midi Rings:
NastyGal
| Clutch: Tasha x
Nordstrom
| Heels:
Steve Madden
| Nail Polish - Mani:
Pure Ice "Siren"
| Nail Polish - Pedi:
Essie "Blanc"
| Faux-hawk hold/volume:
Sexy Hair
Problem:
I've
always
wanted a faux-hawk done to my hair but my length has always been too long. Even whilst modeling (when you're given ample opportunities to try out the coolest/craziest of styles) I was left disappointed: top knots, slick pony-tails & big curls galore but never anything "faux-hawk fun"... Zzzzz...
Solution:
While getting ready the other night I decided, now is the time to attempt the coveted hairstyle while I'm enjoying the benefits of my "LOB" (long bob). So, I jumped on YouTube & found a number of DIY tutorials that followed/recreated (with the help of an army of bobby pins, baby elastics, Sexy Hair products + mirrors) & v
oilà
! No, it isn't perfect; I don't even know if I did it correctly but ultimately I achieved the look that I wanted & for my first attempt, I'm damn proud of my faux-hawk!
Phoenix Fashion Week
's "
Emerging Designer Announcement"
. 14 emerging designers (from all over the US) were selected by the PHXFW team to present their collections at Phoenix Fashion Week this fall & the announcement event provided the public/media an opportunity to meet the designers & get a "chic peek" at their designs. The 14 lucky designers are...
Adóire by Saba
: - "Artisanal Clothing for Modern Women." - @AdoirebySaba
Àtiz Fashion House
: "Eastern traditions. Western innovations. Global sophistication." - @AtizFashion
Blackberry Maverick
: "A Merging of Retro Socialite with an Edgy, Artistic Flare." - @_bmav_
Charmosa Swimwear:
"Unique, like you are." - @CharmosaSwim
Hues of Ego
: "To Each Her Own... Bring Your Alter Ego to Life with Hues of Ego. What is Your Hue?" - @HuesofEgo
Jacqueline Nicole
: "Contemporary Clothing for the Modern Social Maven." - @Jacq_Nicole_
Kismit
: "The Catalyst to One's Fashion Destiny. It is Fate, After All." - @OfficialKismit
Lillienne Lang
: "Luxury Attire for the Timeless, Imaginative and Unconventional." - @LillienneLang
Misha Mendicino Designs:
"Boho-Chic and Comfortably Sexy." - @MishaMendicino
Point & Hue
: "Urban Sophistication for the Contemporary Woman." - @PointandHue
Rayan
: "The Premier Brand of Formal Long Sleeve, Full-Length Silhouettes." - @ShopRayan
Schuylark
: "Style Without Compromise." - @Schuylark
State Forty Eight
: "Arizona Passion Meets Arizona Fashion." - @StateFortyEight
Women's Touch Apparel
: "Empowering Women One Shirt at a Time." - @BeInspiredWT