Vegan Cuts
- Beauty Box: "The easiest way to discover cruelty-free brands without committing to full-size products or prices. Each month you'll receive a delivery of 4-7 new products to try, ranging from unique cosmetics to luxurious skincare."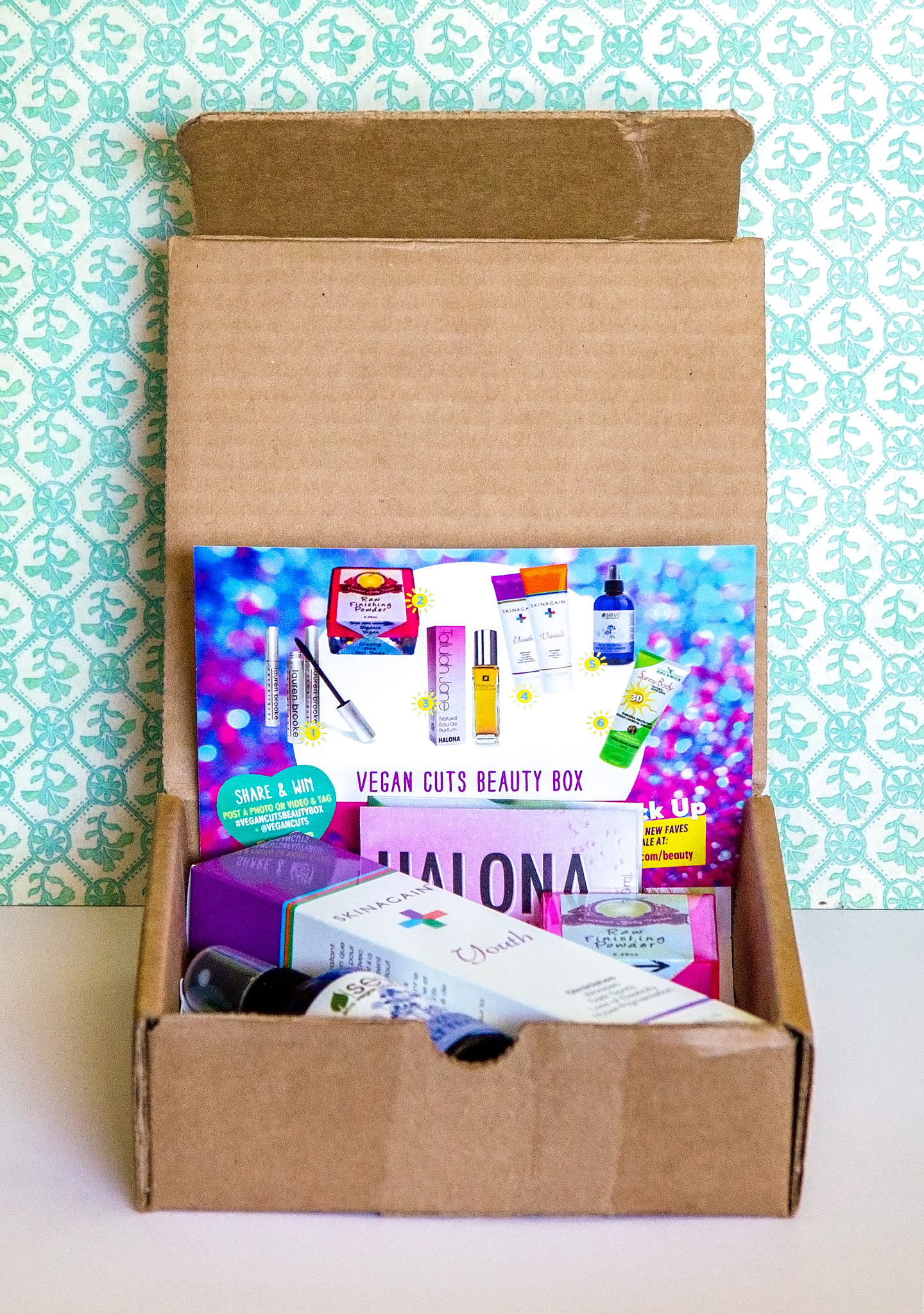 I had the pleasure of meeting Jill Pyle, co-founder of Vegan Cuts while attending Luckyfabb last April. Jill is one of those unique/charming few that you instantly like, are immediately comfortable with & someone you remember, long after your initial introduction. Jill's genuine excitement and enthusiasm for her company was contagious, so I jumped at the opportunity to experience Vegan Cuts & to share my experience with all of you! Now, I've never subscribed to a monthly "box", so I wasn't sure what to expect but as soon as I opened my "6 x 6" beauty box & took a quick tour through the various products, I was genuinely excited - just like Jill!!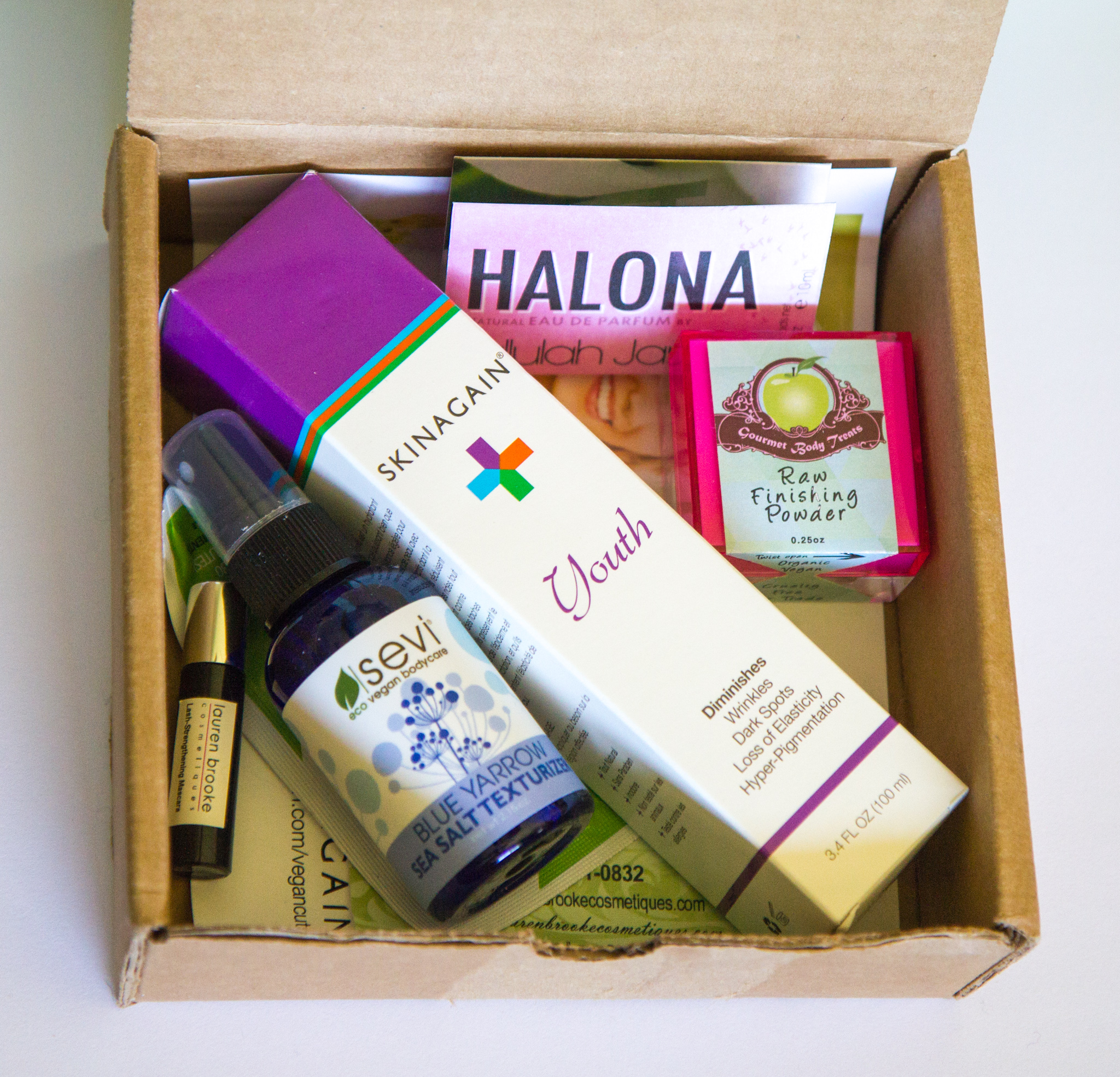 1.
SEVI - Blue Yarrow Sea Salt Hair Texture Spray
- This amazing spray gives my naturally wavy/curly hair fantastic definition & without any crunchy stiffness. 2.
HALONA Natural Eau de Parfum by Tallulah Jane
- This fragrance is so clean & fresh (with notes of lime + ginger), it's the perfect scent for summer! 3.
Gourmet Body Treats "Raw Finishing Powder"
- This oil-absorbing & line-minimizing finishing powder is so sheer you'd forget you have anything on, but it's so fabulous, you couldn't possibly forget!! Must-have! 4.
Lauren Brooke Cosmetiques "Lash-Strengthening Mascara"
- Those that know me, know that I'm hard to please when it comes to mascara. I've tried every new, improved & "revolutionary" mascara on the market, I'm often left disappointed and quickly return to my tried-and-true Maybelline
"Great Lash"
(classic pink+green tube) Blackest-Black Mascara - BUT I will say, this is the first mascara that I've tried and that I'm still using long after the initial test. My lashes are full, the color is rich & with multiple coats, zero clumps in sight! 5.
Skinagain "Youth"
- A great lightweight & age-defying moisturizer that helps reduce the appearance of fine lines, diminish dark spots, seal in moisture & improve your skins elasticity. It goes on smooth & kept my skin soft and moisturized hours later. 6.
Goddess Garden Organics "Sunny Body" SPF 30 Natural Sunscreen
- I never leave the house without suncreen (with or without makeup) & finding a great one that provides powerful protection without harmful chemicals is hard - this sheer mineral sunscreen is water-resistant, 100% biodegradable and contains nourishing aloe-vera! Ladies, the secret to youthful looking skin is protecting it - always, always,
always
wear sunscreen!!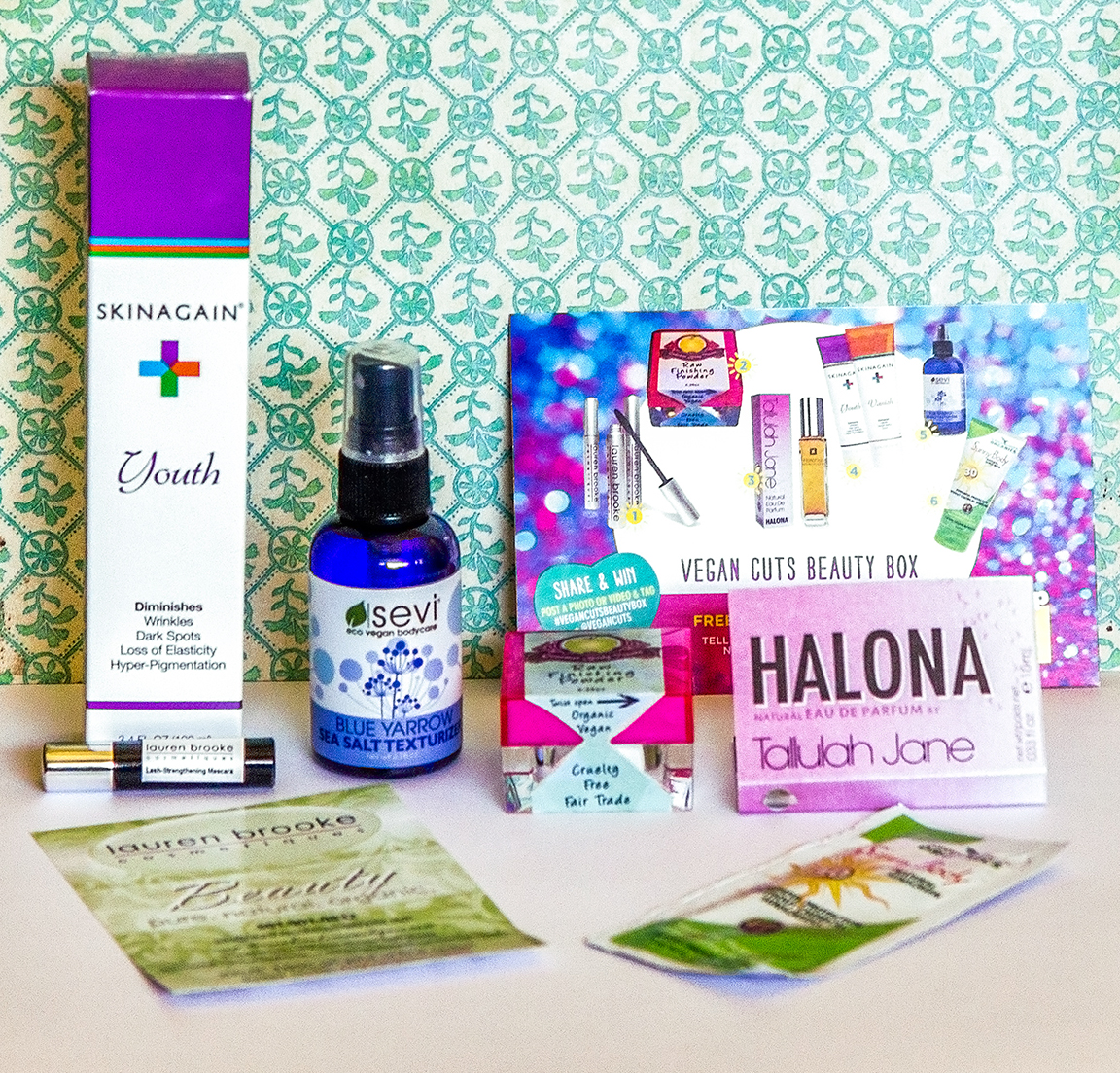 I can't thank Jill (or the fabulous team behind Vegan Cuts) enough for the opportunity to experience & share this extraordinary box with all of you!! I highly recommend the
Beauty Box
to anyone interested in experiencing the vegan, 100% natural & cruelty-free difference. Vegan Cuts really take their time to select the very best products!! For those not as
beauty
-enthused, Vegan Cuts also offers a really yummy
Snack Box
as well as other vegan-approved
products
on their fabulous website.
*While I am not Vegan - I do appreciate + support everything that Vegan Cuts does and the businesses/products they support.*
Happy Monday, I hope it's a great one!!